UPDATE: Here is my new link to our
meat chicken journal
I thought I would get this picture up finally...didn't get all the pics downloaded yet but I will some day and share them with you. Here is the silkie hen with her two babies:
See the two babies?? Under the hens wing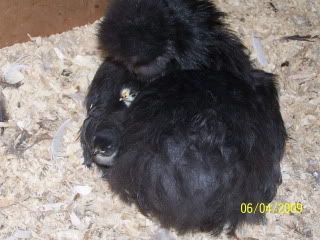 Here is a closer look of one of them: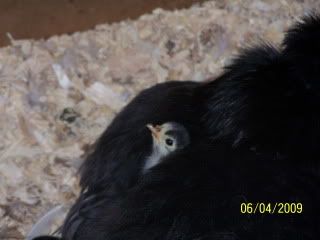 Watching her raise them is just the most relaxing thing ever! I could sit there and watch them for hours :D
Her is my blue orp rooster who is just gorgeous!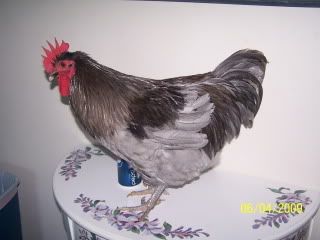 And here is one of my newest chicks. THis is a blue bantam cochin...not sure if it's a hen or a roo yet but will be able to tell soon enough.
New news...not sure if I told you all that we are going to be raising meat chickens from now on? Well, they were in the mail this last wed...did not get them yet. I'm worried they are lost in the mail. I have calls in to the distribution center and I'm hoping they get them there this afternoon. I would drive to get them there vs waiting for them to be delivered to my P.O. tomorrow morning. My chicks have always only taken two days to get here :( I'm worried if I wait till tomorrow 1/2 of them will be dead :( I am also starting a new journal JUST for my records of our meat birds so if anyone is interested in watching this journey your welcome to join me there. I will put a link in here when I get it made. There will also be lots of pics to see the growth...were going to be trying different meat chickens and we want to know the what the best tasting one is etc...just a record keeping journal really but it will help us know what to do in the years to come.
Stefan is home on break and we are getting invites ready for his grad party on July 11 :D He leaves July 27 to go to college. I will have lots of pics of his graduation and party when hubby gets them all uploaded for me. Watch for those later.