I finally got hubby to add those pics for me so I can share them with you. If your not chicken people well, I will try to find other pics too. I also have some news that I can't remember if I shared with you all...and two movie reviews too. First we will start with the news. I think I told you that Stefan had been on homecoming court and that he had been listed as "All American" in football? But I don't think I told you that he got a recruit letter from Gallaudet University! They want him to play football there :D After they see his transcripts from his other school there will most likely be a scholarship involved in this :D The only problem is...Stefan is deaf and he has problems understanding the english writing. So with that, he had problems understanding the directions to the SAT tests. SO his score was lower then it should have been compared to his grades in school. He is an A B student in all his classes so he's very smart when he understands what the directions are. So were trying to see what can be done so he can take some prep classes so his test scores will improve. It sucks and he didn't' want to have to take them again but he will have to so his scores are where they are suppose to be. We have sent the transcripts over and sent his fees to the school to get started. It's in Washington DC so it's SO far away and I'm not going to like it but I know he will love it there. He told me the other night that he had a bad dream. I asked him what it was about and he said he had a dream he was back in his old school and he hated it. The only thing he misses at his old school is wrestling and his coach. I'm SO glad he talked us into letting him go. I didn't want to...I hesitated and really didn't want him to go but now I'm glad I did. In fact he didn't even come home this last weekend because he went home with a good friend of his. He's just really bloomed over there! So now that you know I"m happy about that I will get on with the next. PICS
Here is my blue orpington rooster Tristan blue: He's 14 weeks old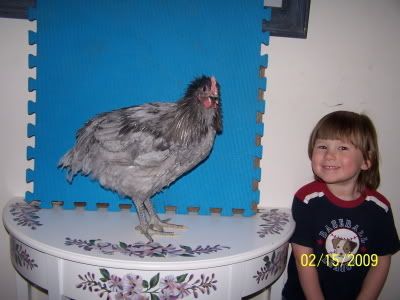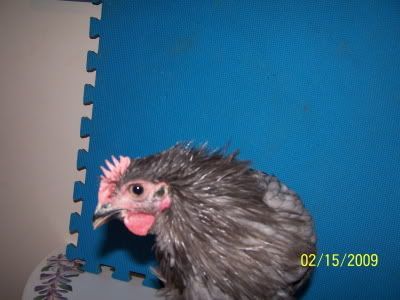 And here is his mate my Splash orpington hen Lexi: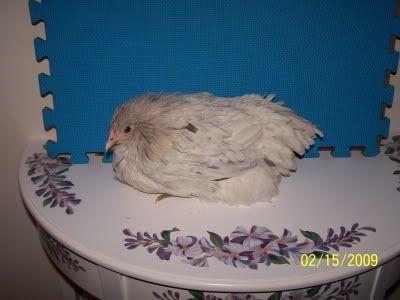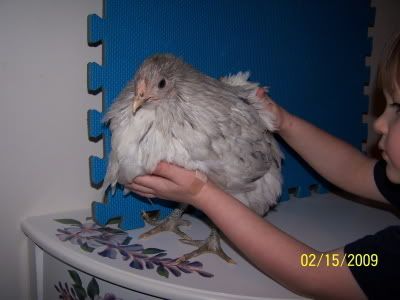 And here is the coop we finished up but is still in the garage until the snow melts. And yes, I still plan on taking a video when they move that!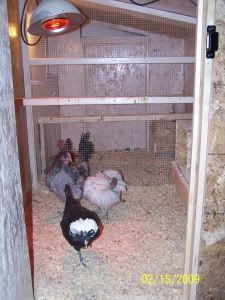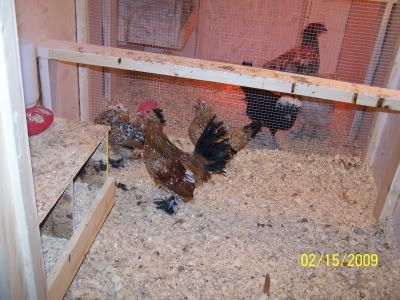 The venting in the coop:
And here is an outside: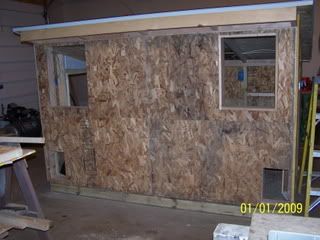 We have I THINK decided to side it with regular siding rather then paint it. It's going to be closer to the road where people will see it so we don't want it looking like an old shed lol. We will prob side the big hen house later on too. AND hubby says he MAY just make another coop for me! I would LOVE to have another coop just like this one so I can have four different breeding breeds :D I think he loves me ;) Now we have coop one (unnamed yet) and coop two (Autumn Breeze). I still have bantam cochins and my silkies in his computer shed yet so I told him another coop just like this one would be perfect ;) I'm going to try to get pics of Stefan when he comes home this next weekend with Nic so I will add those. Alex was over yesterday and I forgot to grab some pics of her! I was so mad. Anyway....now on to the movies:
We watched "Fireproof" and that movie was awesome! If you don't believe in god it's not a good show for you but if you do...it is a fantastic movie! I do so it was fantastic ;) It's a good movie to watch with your young teen boys and your hubby. You both learn so much from this movie. I highly recommend this movie!
We also watched "The Secret Life of Bees" with Dakota Fanning and she was great in this movie. VERY good movie also and I give it three thumbs up! She plays a 14 yr old girl and I won't tell you anymore except she does get her first on screen kiss in this movie. So cute! I can't believe she has grown up so much already!
Well I have to get back to cleaning before I head to work today. I will talk with you all soon :D