It was a very sad, exciting, tiring, hectic trip but we are back home and I still feel like I will see Stefan over the weekend but I won't :( It's going to be a LONGGGG several months for me and I promised Stefan I would keep the journal updated so he could read what's been going on in our lives. I hope he emails me to let me know what's going on in his. I do know he's been getting around. We added his checks to his checking account that he got from his graduation and we seen he is using the metro system and even going to target and subway. That scares me because I really didn't see him exploring to much. I just wanted him to stay on campus! LOL I know...silly, but I'm a worried mother! I can't stand this and I hope I find a way to cope with it and realize that he's not a baby anymore *crying* Oh it's going to be hard but I will do it.
Nic is not understanding the length of time till he sees his brother again. He is thinking it's going to be the weekend like before.
I explained to him that we would not see Stefan until AFTER he turns 5 yrs old and it 's snowing outside! Man, now that I say that it does seem SO far away :(
Nic was SO good on our trip...we had a couple times where he was a little stressed out but over all he did fantastic! He didn't even want to watch many movies. I think he only watched three the entire trip! (17 hours there over 20 back becasue we took a different route) That shocked us but we were happy about it.
Well, let me tell you a little about what went on over the week. We had two days at Gallaudet just taking some classes of our own (only the first hour was with Stefan and the rest of the two days we were separated) and we learned a lot about the campus and about money for the students etc...we even had an exercise day LOL It was fun and with that we learned a lot as well. The last day we had a session on "letting go" THAT was harder then I thought. One of the single moms there (by the end there were only four couples left and two single moms) started crying so hard (she was letting go of her only child...a girl) and that made ALL of us women start crying. Oh I felt so bad for her. It must be extra hard for her to lose her one and only. At least I still have Nic here to help me through it. We got to see Stefan a few different times...the first day there we figured we would have lunch with him so we were looking for him and where do we find him? At a table with three girls! Well, he's fitting right in and he seems happy to be there. The last day he looked a little sad and I asked him why he was sad...he said he wasn't sad to be there just sad that we were leaving and he wouldn't see us for so long :( He has already made lots of friends there in just the two days WE were there with him. I have to say I am SO SO SO SO glad we went with him. I would have been a nervous wreck if I hadn't. Now I seen the campus which was BEAUTIFUL and I know he's going to be safe. It's completely fenced in and they have a guard on duty 24/7 at the gate where you drive in. I have some pictures to share with you. We were not able to take many as I forgot to charge my darn camera before we left but I did get a few.
Another great thing that happened on our trip was I got to meet one of my online friends from IN :D Her family and ours went out to eat and we talked for a few hours before we had to head out to our last hotel stay on our way home.
PICTURE TIME:
This is Nic in front of the Gallaudet hotel which was full so we had to stay 12 miles out which was ok...traffic was NUTS but we survived.
Here is Stefans summer dorm (Peet Hall)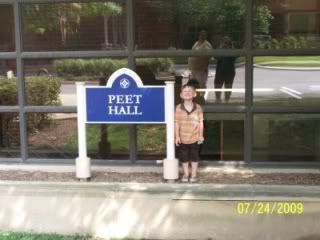 This is the center court of Gallaudet...it was very pretty here and relaxing. I wish I would have had a better picture of it.
This is where Stefan will move the middle of August for his freshman year. Poor kid has to more his microwave, fridge and all his stuff.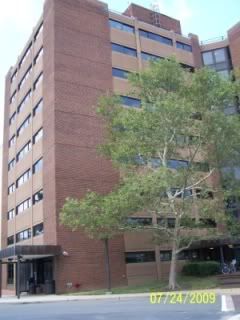 Don't know the person standing by the sign but wanted to get the picture of the sign.
This is a really cool interactive sign in one of the building at Gally It signs all the instructions for the deaf. VERY cool!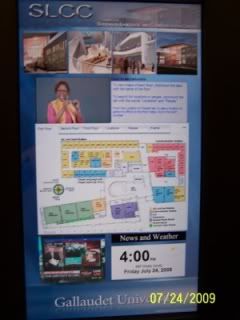 The cutest part of our trip: BABY DUCKS!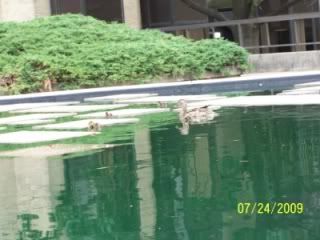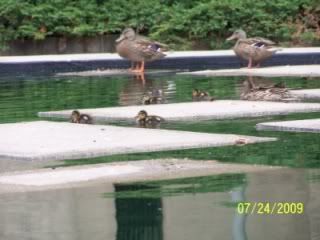 The kids walk across the stepping stones rather then go around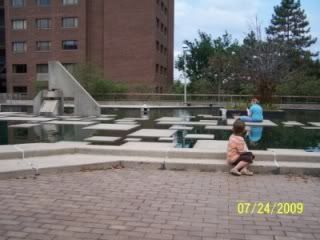 Stefan during one of HIS sessions with his group (he's in the red shirt and grey shorts)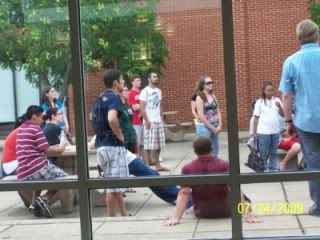 Stefan with his ID badge (around his neck)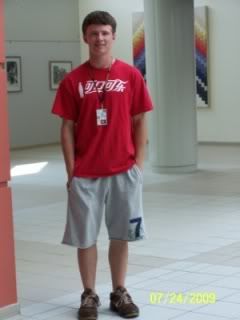 Stefan saying goodbye to Nic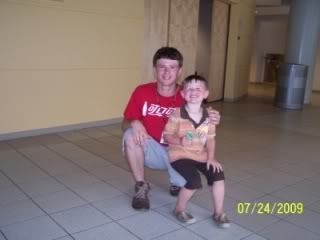 Nic in the pool in IN on our way home. This is our last night in a hotel for this trip!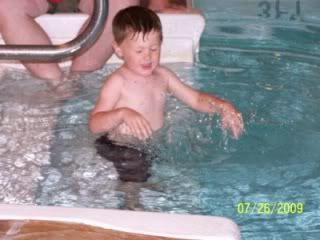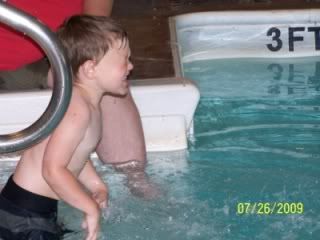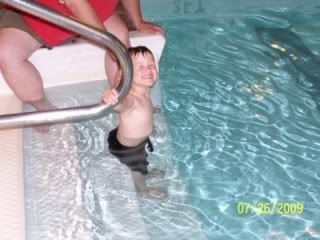 And last...me (on left) and my friend Shelley whom I was so happy to finally meet! I may see her again in Oct as we may go back for the big homecoming weekend and see Stefan. I just may HAVE to!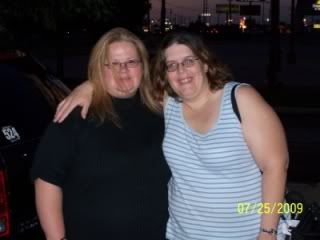 That is it folks! I will be updating more often here now so my son can keep up to date with the family and it's goings on. I have grad pics I'm adding in my back entries so they are by the correct dates check those out too!